As always this meme is hosted by The Broke and The Bookish. Go and take a look at their blog!
The following books are in no particular order. Click on the title to go to the book's goodreads page if you're interested.
---
Adulting 101 by Lisa Henry
The struggle is real.
Nick Stahlnecker is eighteen and not ready to grow up yet. He has a summer job, a case of existential panic, and a hopeless crush on the unattainable Jai Hazenbrook. Except how do you know that your coworker's unattainable unless you ask to blow him in the porta-potty?
That's probably not what Dad meant when he said Nick should act more like an adult.
Twenty-five-year-old Jai is back in his hometown of Franklin, Ohio, just long enough to earn the money to get the hell out again. His long-term goal of seeing more of the world is worth the short-term pain of living in his mother's basement, but only barely.
Meeting Nick doesn't fit in with Jai's plans at all, but, as Jai soon learns, you don't have to travel halfway around the world to have the adventure of a lifetime.
This is not a summer romance. This is a summer friendship-with-benefits. It's got pizza with disgusting toppings, Netflix and chill, and accidental exhibitionism. That's all. There are no feelings here. None. Shut up.
What remains by Garrett Leigh
Web designer Jodi Peters is a solitary creature. Lunch twice a week with his ex-girlfriend-turned-BFF and the occasional messy venture to a dodgy gay bar is all the company he needs, right?
Then one night he stumbles across newly divorced firefighter Rupert O'Neil. Rupert is lost and lonely, but just about the sweetest bloke Jodi has ever known. Add in the heady current between them, and Jodi can't help falling hard in love. He offers Rupert a home within the walls of his cosy Tottenham flat—a sanctuary to nurture their own brand of family—and for four blissful years, life is never sweeter.
Until a cruel twist of fate snatches it all away. A moment of distraction leaves Jodi fighting for a life he can't remember and shatters Rupert's heart. Jodi doesn't know him—or want to. With little left of the man he adores, Rupert must cling to what remains of his shaky faith and pray that Jodi can learn to love him again.
Roller Girl by Vanessa North
Recently divorced Tina Durham is trying to be self-sufficient, but her personal-training career is floundering, her closest friends are swept up in new relationships, and her washing machine has just flooded her kitchen. It's enough to make a girl cry.
Instead, she calls a plumbing service, and Joanne "Joe Mama" Delario comes to the rescue. Joe is sweet, funny, and good at fixing things. She also sees something special in Tina and invites her to try out for the roller derby team she coaches.
Derby offers Tina an outlet for her frustrations, a chance to excel, and the female friendships she's never had before. And as Tina starts to thrive at derby, the tension between her and Joe cranks up. Despite their player/coach relationship, they give in to their mutual attraction. Sex in secret is hot, but Tina can't help but want more.
With work still on the rocks and her relationship in the closet, Tina is forced to reevaluate her life. Can she be content with a secret lover? Or with being dependent on someone else again? It's time for Tina to tackle her fears, both on and off the track.
It was a thursday by Carol Lynne
It was a Thursday. The day one eighteen-year-old gunman would change the lives of an entire town.
Principal Mark Kurtz loved his school. He worked hard to give his students every advantage in life, but he could have never predicted that on a warm day in May, a distraught senior would commit an unimaginable act of vengeance on his classmates.
In the aftermath of the shooting that left both students and faculty members dead, Mark must deal with his own guilt while trying to help those around him feel safe once again.
Mark's problems are compounded when an old flame, Lane Warner, arrives in town to help treat the trauma victims. How can he possibly deal with his own guilt, be there for his seventeen-year-old son and confront the part of himself he's always denied while trying to heal a broken community?
A seditious affair by K.J. Charles
Silas Mason has no illusions about himself. He's not lovable, or even likable. He's an overbearing idealist, a Radical bookseller and pamphleteer who lives for revolution . . . and for Wednesday nights. Every week he meets anonymously with the same man, in whom Silas has discovered the ideal meld of intellectual companionship and absolute obedience to his sexual commands. But unbeknownst to Silas, his closest friend is also his greatest enemy, with the power to see him hanged—or spare his life.
A loyal, well-born gentleman official, Dominic Frey is torn apart by his affair with Silas. By the light of day, he cannot fathom the intoxicating lust that drives him to meet with the Radical week after week. In the bedroom, everything else falls away. Their needs match, and they are united by sympathy for each other's deepest vulnerabilities. But when Silas's politics earn him a death sentence, desire clashes with duty, and Dominic finds himself doing everything he can to save the man who stole his heart.
Harry Potter and the cursed child by J.K. Rowling, John Tiffany, Jack Thorne
Based on an original new story by J.K. Rowling, Jack Thorne and John Tiffany, a new play by Jack Thorne, Harry Potter and the Cursed Child is the eighth story in the Harry Potter series and the first official Harry Potter story to be presented on stage. The play will receive its world premiere in London's West End on July 30, 2016.
It was always difficult being Harry Potter and it isn't much easier now that he is an overworked employee of the Ministry of Magic, a husband and father of three school-age children.
While Harry grapples with a past that refuses to stay where it belongs, his youngest son Albus must struggle with the weight of a family legacy he never wanted. As past and present fuse ominously, both father and son learn the uncomfortable truth: sometimes, darkness comes from unexpected places.
Power exchange by A.J. Rose
From the moment Detective Gavin DeGrassi steps into the world of BDSM to solve the brutal slaying of Dom George Kaiser, his course is not his own. Mesmerized by the context in which the victim lived and the images of the lifestyle seared into his soul, Gavin must find a way to navigate these unknown waters. With his personal life in upheaval due to marital trouble, and his professional life uncertain with the assignment of a new partner, Gavin needs all the help he can get understanding the case.
Enter Ben Haverson, a psychologist and a well known Dom. With Ben's help as a consultant and attention to Gavin's own murky truths, Gavin delves deeper than he ever thought he would into the world of restraints and paddles. Forced to scrutinize his true nature and his innermost desires, Gavin has a choice: keep the fear of submitting at bay, or dive in and solve the case with the knowledge he gains. When another victim is discovered, Gavin's choice is made for him, and he's pulled headlong into the deepest, most emotional journey of his life.
Unfortunately for him and Ben, a killer has noticed, has taken stock, and has set his sights on the D/s pair. Can Gavin outwit him, or will his first exchange of power be his last?
Hell & high water by Charlie Cochet
When homicide detective Dexter J. Daley's testimony helps send his partner away for murder, the consequences—and the media frenzy—aren't far behind. He soon finds himself sans boyfriend, sans friends, and, after an unpleasant encounter in a parking garage after the trial, he's lucky he doesn't find himself sans teeth. Dex fears he'll get transferred from the Human Police Force's Sixth Precinct, or worse, get dismissed. Instead, his adoptive father—a sergeant at the Therian-Human Intelligence Recon Defense Squadron otherwise known as the THIRDS—pulls a few strings, and Dex gets recruited as a Defense Agent.
Dex is determined to get his life back on track and eager to get started in his new job. But his first meeting with Team Leader Sloane Brodie, who also happens to be his new jaguar Therian partner, turns disastrous. When the team is called to investigate the murders of three HumaniTherian activists, it soon becomes clear to Dex that getting his partner and the rest of the tightknit team to accept him will be a lot harder than catching the killer—and every bit as dangerous.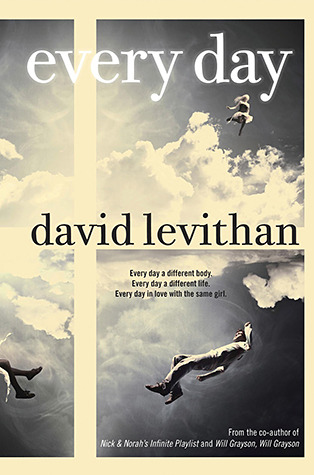 Every day by David Levithan
Every day a different body. Every day a different life. Every day in love with the same girl.
There's never any warning about where it will be or who it will be. A has made peace with that, even established guidelines by which to live: Never get too attached. Avoid being noticed. Do not interfere.
It's all fine until the morning that A wakes up in the body of Justin and meets Justin's girlfriend, Rhiannon. From that moment, the rules by which A has been living no longer apply. Because finally A has found someone he wants to be with—day in, day out, day after day.
The dream thieves by Maggie Stiefvater
If you could steal things from dreams, what would you take?
Ronan Lynch has secrets. Some he keeps from others. Some he keeps from himself.
One secret: Ronan can bring things out of his dreams.
And sometimes he's not the only one who wants those things.
Ronan is one of the raven boys—a group of friends, practically brothers, searching for a dead king named Glendower, who they think is hidden somewhere in the hills by their elite private school, Aglionby Academy. The path to Glendower has long lived as an undercurrent beneath town. But now, like Ronan's secrets, it is beginning to rise to the surface—changing everything in its wake.
---
I really wanna go on a book shopping spree right now. But sadly no one handed me a fully loaded gift card and my account tells me "NO!!!"
Which books would you buy right this second if someone gave you a fully loaded gift card?