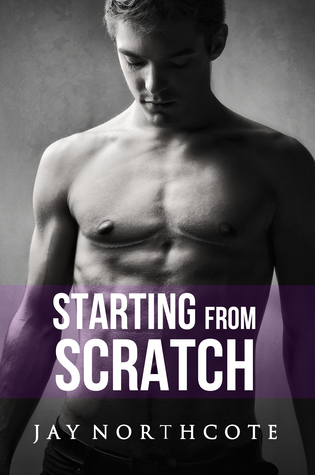 Series: Housemates (book 5)
Genre: LGBT (m/m, trans* character), Romance
Rating: 4/5 Stars
Cover: Perfect.
Links: goodreads
Trigger warnings: internalized trans*phobia
Description: Starting over isn't easy, but Ben is ready to live his life as the man he was always meant to be.
Ben is transgender and back at university after hormone treatment and chest surgery. His new housemates have no idea about his history and Ben would prefer to keep it that way. He's starting from scratch and his life is finally on track, except in the romance department. The idea of dating guys as a guy is exhilarating but terrifying, because if Ben wants a boyfriend he'll have to disclose his secret.
Sid is drawn to Ben from the moment they meet. He normally gets what he wants—in the short term at least. Ben's guarded at first, and Sid's not used to guys rejecting his advances. He eventually charms his way through Ben's defences and helps Ben on his journey of sexual awakening.
It doesn't matter to Sid that Ben is trans. He's attracted to the whole person, and isn't worried about what is—or isn't—in Ben's pants. They're good together, and both of them are falling hard and fast, but Ben's insecurities keep getting in the way. If Sid can convince Ben he's committed, will Ben finally be able to put his heart on the line?
Review: I was so excited for this book!
And I still am, because folks who are not trans* get a real look into the experiences and feelings and changes a trans* man can possibly have. I'm using 'real' not because I'm trans* myself (which I'm not), but because Jay Northcote himself is trans*. That's another reason why I was and still am excited for this book. Ownvoices, fuck yeah!
Starting from Scratch starts with a little glossary so all readers can understand 'special' words perfectly. It makes reading the actual book very flowing because there aren't any lengthy explanations about word meanings etc. Plus if you want to read up the meaning of a word later on, you just need to take a quick look at the glossary.
I've read some books with trans* MCs (not enough though) and up to this one… there never were any sexual scenes in it. I'm not saying a book has to have sex in it to be interesting (if you know me you already know it), but it was a nice change to be able to read about sex with a trans* guy. It was very informative for me as well, because there are some body changes due to testosterone that I didn't know about (because I never read up on it and because it never was written in those trans* books I've read before).
I also think that writing sex like this… makes it more 'normal' for people? Like, they see it is 'possible' and not something you have to be afraid of? I'm speaking from both POVs here right now. Ben is afraid he won't be male enough for his partner and Sid is unsure if he can be aroused and what to do with Ben andandand. And I think those are worries that non fictional people can have as well.
I love how they both talk about this though. Communication is so damn important in every relationship.
You may be wondering know why I gave 4 stars instead of 5 if I'm so happy about this book. The reason is… there is too much sex for my taste. Yes, I know I go on and on about how great it is that there is sex and then I'm like but not this much please! It's just… it really isn't a long book and they are having too much sex and I like my plot okay? I like to get to know the characters and read about their life.
Interestingly enough, Jay manages to make me like Ben and Sid and their dates are very cute and fun to read about. But I still would have liked to read more about that aspect of their life. Personal taste, like I said.
Disclaimer: I received a free copy through the author in exchange for an honest review. Thank you.