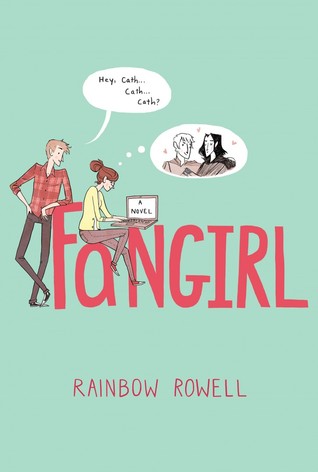 Series: Standalone, but kinda connected with Carry on
Genre: Romance, NA
Rating: 4.5/5 stars
Cover: Could be a scene right outta the novel.
Links: goodreads
Trigger warnings: None.
Description: Cath is a Simon Snow fan.
Okay, the whole world is a Simon Snow fan…
But for Cath, being a fan is her life—and she's really good at it. She and her twin sister, Wren, ensconced themselves in the Simon Snow series when they were just kids; it's what got them through their mother leaving.
Reading. Rereading. Hanging out in Simon Snow forums, writing Simon Snow fan fiction, dressing up like the characters for every movie premiere.
Cath's sister has mostly grown away from fandom, but Cath can't let go. She doesn't want to.
Now that they're going to college, Wren has told Cath she doesn't want to be roommates. Cath is on her own, completely outside of her comfort zone. She's got a surly roommate with a charming, always-around boyfriend, a fiction-writing professor who thinks fan fiction is the end of the civilized world, a handsome classmate who only wants to talk about words… And she can't stop worrying about her dad, who's loving and fragile and has never really been alone.
For Cath, the question is: Can she do this?
Can she make it without Wren holding her hand? Is she ready to start living her own life? Writing her own stories?
And does she even want to move on if it means leaving Simon Snow behind?
Review: A very fun book which I am going to reread.
Can I start with saying how great it is that the female characters in this book work together?! How often does that happen in books? I especially liked how even though one of the girls is the ex of the male love interest, she is not portrayed as a good for nothing bitch? Far from the opposite to be honest.
I really enjoyed that there is no bad boy type. I'm really bored how so many of the love interests are (wannabe) bad boys and are truly just assholes.
But there is more to this story.
We finally have a socially anxious character who truly is socially anxious. No 'telling but not showing'. We get to experience Cath's social anxiety and I could really see myself in her. Social situations are scary and there are so many things that could happen and things that you have to consider and it's just really, really stressing, okay?
If you are a love of fanfictions you might really enjoy Fangirl, because fanfictions have a big part in this story. It kinda reads like a love note to fanfictions and I love it.
The only thing I'm able to criticize is that the fanfiction Cath writes is different from Carry on – which is kinda her fanfiction published in its own novel (and written by Rainbow Rowell of course). Does that make sense?
Anyway, I've read the novel Carry on first and there are some passages from the fanfiction Carry on in Fangirl but the passages aren't in the novel Carry on. I'm so sorry if you are confused now. This critic is not important.
I just have one more thing to add: The writing is perfect for this story, it's so flowing…
Merken