I had to edit this post, because somehow I forgot a series! I don't know how this happened….

Like always this meme is hosted by The Broke and The Bookish. Go and take a look at their blog!
2016 was a (kinda) shitty year worldwide, but at least we get to take some good books out of it. Here's to a better year 2017!
---
All for the Game (series) by Nora Sakavic

Neil Josten is the newest addition to the Palmetto State University Exy team. He's short, he's fast, he's got a ton of potential—and he's the runaway son of the murderous crime lord known as The Butcher.
Signing a contract with the PSU Foxes is the last thing a guy like Neil should do. The team is high profile and he doesn't need sports crews broadcasting pictures of his face around the nation. His lies will hold up only so long under this kind of scrutiny and the truth will get him killed.
But Neil's not the only one with secrets on the team. One of Neil's new teammates is a friend from his old life, and Neil can't walk away from him a second time. Neil has survived the last eight years by running. Maybe he's finally found someone and something worth fighting for.
Every Day By David Levithan
Every day I am someone else. I am myself – I know I am myself – but I am also someone else. It has always been like this.
Each morning, A wakes up in a different body. There's never any warning about who it will be, but A is used to that. Never get too attached. Avoid being noticed. Do not interfere. And that's fine – until A wakes up in the body of Justin and meets Justin's girlfriend, Rhiannon. From that moment, the rules by which A has been living no longer apply.
Here's the Thing by Emily O'Beirne
It's only for a year. That's what sixteen-year-old Zel keeps telling herself after moving to Sydney for her dad's work. She'll just wait it out until she gets back to New York and Prim, her epic crush/best friend, and the unfinished subway project. Even if Prim hasn't spoken to her since that day on Coney Island.
But Zel soon finds life in Sydney won't let her hide. There's her art teacher, who keeps forcing her to dig deeper. There's the band of sweet, strange misfits her cousin has forced her to join for a Drama project. And then there's the curiosity that is the always-late Stella.
As she waits for Prim to explain her radio silence and she begins to forge new friendships, Zel feels strung between two worlds. Finally, she must figure out how to move on while leaving no one behind.
A seditious Affair by K.J. Charles
Silas Mason has no illusions about himself. He's not lovable, or even likable. He's an overbearing idealist, a Radical bookseller and pamphleteer who lives for revolution . . . and for Wednesday nights. Every week he meets anonymously with the same man, in whom Silas has discovered the ideal meld of intellectual companionship and absolute obedience to his sexual commands. But unbeknownst to Silas, his closest friend is also his greatest enemy, with the power to see him hanged—or spare his life.
A loyal, well-born gentleman official, Dominic Frey is torn apart by his affair with Silas. By the light of day, he cannot fathom the intoxicating lust that drives him to meet with the Radical week after week. In the bedroom, everything else falls away. Their needs match, and they are united by sympathy for each other's deepest vulnerabilities. But when Silas's politics earn him a death sentence, desire clashes with duty, and Dominic finds himself doing everything he can to save the man who stole his heart.
Captive Prince (series) by C.S. Pacat
Damen is a warrior hero to his people, and the rightful heir to the throne of Akielos. But when his half brother seizes power, Damen is captured, stripped of his identity, and sent to serve the prince of an enemy nation as a pleasure slave.
Beautiful, manipulative, and deadly, his new master, Prince Laurent, epitomizes the worst of the court at Vere. But in the lethal political web of the Veretian court, nothing is as it seems, and when Damen finds himself caught up in a play for the throne, he must work together with Laurent to survive and save his country.
For Damen, there is just one rule: never, ever reveal his true identity. Because the one man Damen needs is the one man who has more reason to hate him than anyone else…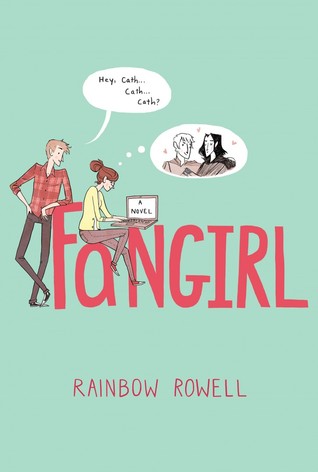 Fangirl by Rainbow Rowell
Cath is a Simon Snow fan.
Okay, the whole world is a Simon Snow fan…
But for Cath, being a fan is her life—and she's really good at it. She and her twin sister, Wren, ensconced themselves in the Simon Snow series when they were just kids; it's what got them through their mother leaving.
Reading. Rereading. Hanging out in Simon Snow forums, writing Simon Snow fan fiction, dressing up like the characters for every movie premiere.
Cath's sister has mostly grown away from fandom, but Cath can't let go. She doesn't want to.
Now that they're going to college, Wren has told Cath she doesn't want to be roommates. Cath is on her own, completely outside of her comfort zone. She's got a surly roommate with a charming, always-around boyfriend, a fiction-writing professor who thinks fan fiction is the end of the civilized world, a handsome classmate who only wants to talk about words… And she can't stop worrying about her dad, who's loving and fragile and has never really been alone.
For Cath, the question is: Can she do this?
Can she make it without Wren holding her hand? Is she ready to start living her own life? Writing her own stories?
And does she even want to move on if it means leaving Simon Snow behind?
Harry Potter and the Cursed Child – Parts One and Two by J.K. Rowling, Jack Thorne and John Tiffany
It was always difficult being Harry Potter and it isn't much easier now that he is an overworked employee of the Ministry of Magic, a husband and father of three school-age children.
While Harry grapples with a past that refuses to stay where it belongs, his youngest son Albus must struggle with the weight of a family legacy he never wanted. As past and present fuse ominously, both father and son learn the uncomfortable truth: sometimes, darkness comes from unexpected places.
Part & Parcel by Abigail Roux
Nick O'Flaherty and Kelly Abbott had their happy ending in sight when a friend's call for help almost ended with them losing it to the blade of a knife. Now, in the aftermath of near-disaster, both men are trying to heal and move on.
Moving on together, though, is harder than either of them realized it would be. Kelly struggles with simply being a lover instead of the Doc, while Nick is mired in his recovery. The distance between them inches along in stilted silence.
Desperately seeking solace, Nick finally gathers the courage to sort through the possessions his dear friend and fellow Sidewinder teammate Elias Sanchez left him when he died. Instead of comforting memories, Nick and Kelly find a stack of letters and strict instructions from Eli that prompt them to send out a call for assistance. With Eli's letters in hand, Sidewinder sets out on one last mission together, seeking peace and absolution from beyond the grave—and from each other.
Misfits by Garrett Leigh
Restaurant owner Tom Fearnes has loved his partner Cass for as long as he can remember, but their work often keeps them apart. When he meets a striking young man named Jake on the vibrant streets of Camden Town, their heady first encounter takes an unexpected turn.
Jake Thompson can hardly believe his luck when he wakes up in Tom's bed. Tom is gorgeous, kind, and . . . taken. Tom's explanation of his open relationship leaves Jake cold, but Tom is too tempting, and when hard times force Jake to accept Tom's helping hand, he finds himself between two men who've lost their way.
Cass Pearson is a troubled soul. He loves Tom with all he has, but some days it feels like he hasn't much to give. Jake seems like the perfect solution. Cass risks everything to push Jake and Tom together, but Jake resists, wary, until the darkness of Cass's past comes to call. Then Jake finds himself the last man standing, and it's time to dig deep and shine a light for the men he's grown to love.
Flinging it by G. Benson
Frazer, head midwife at a hospital in Perth, Australia, is trying to make her corner of the world a little better by starting up a programme for at-risk parents. Not everyone is excited about her ideas. Surrounded by red tape, she finally has to team up with Cora, a social worker who is married to Frazer's boss.
Cora is starting to think her marriage is beyond saving, even if she wants to. Feeling smothered by a domineering spouse, she grabs hold of the programme and the distraction Frazer offers with both hands. Soon the two women get a little too close and find themselves in a situation they never dreamed themselves capable of: an affair.
As the two fall deeper, both are torn between their taboo romance and their morals. But walking away from each other may not be as simple as they thought.
Suicide Watch by Kelley York
18-year-old Vincent Hazelwood has spent his entire life being shuffled from one foster home to the next. His grades sucked. Making friends? Out of the question thanks to his nervous breakdowns and unpredictable moods. Still, Vince thought when Maggie Atkins took him in, he might've finally found a place to get his life—and his issues—in order.
But then Maggie keels over from a heart attack. Vince is homeless, alone, and the inheritance money isn't going to last long. A year ago, Vince watched a girl leap to her death off a bridge, and now he's starting to think she had the right idea.
Vince stumbles across a website forum geared toward people considering suicide. There, he meets others with the same debate regarding the pros and cons of death: Casper, battling cancer, would rather off herself than slowly waste away. And there's quiet, withdrawn Adam, who suspects if he died, his mom wouldn't even notice.
As they gravitate toward each other, Vince searches for a reason to live while coping without Maggie's guidance, coming to terms with Casper's imminent death, and falling in love with a boy who doesn't plan on sticking around.
---
Those books aren't in any particular order. You should read them all.
What are your favourite books from 2016?
Merken
Merken