Like always this meme is hosted by The Broke and The Bookish. Go and take a look at their blog!
The following books are nice starting points to get into LGBTQIA+ books.
You will find YA, NA and adult books as well as f/f and m/m pairings. Trans* and asexual characters are represented as well. And last but not least you can pick between contemporary and historical novels.
---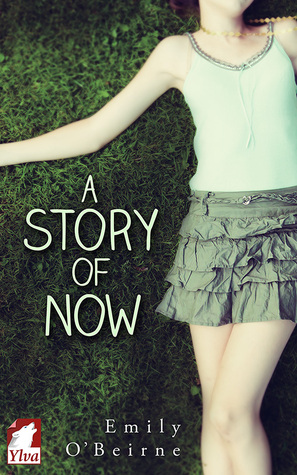 Nineteen-year-old Claire Pearson knows she needs a life. And some new friends.
But brittle, beautiful, and just a little bit too sassy for her own good sometimes, she no longer makes friends easily. And she has no clue where to start on the whole finding a life front, either. Not after a confidence-shattering year dogged by bad break-ups, friends who have become strangers, and her constant failure to meet her parents sky-high expectations.
When Robbie and Mia walk into Claire's work they seem the least likely people to help her find a life. But despite Claire's initial attempts to alienate them, an unexpected new friendship develops.
And it's the warm, brilliant Mia who seems to get Claire like no one has before. Soon, Claire begins to question her feelings for her new friend.
My review
David Piper has always been an outsider. His parents think he's gay. The school bully thinks he's a freak. Only his two best friends know the real truth: David wants to be a girl.
On the first day at his new school Leo Denton has one goal: to be invisible. Attracting the attention of the most beautiful girl in his class is definitely not part of that plan. When Leo stands up for David in a fight, an unlikely friendship forms. But things are about to get messy. Because at Eden Park School secrets have a funny habit of not staying secret for long , and soon everyone knows that Leo used to be a girl.
As David prepares to come out to his family and transition into life as a girl and Leo wrestles with figuring out how to deal with people who try to define him through his history, they find in each other the friendship and support they need to navigate life as transgender teens as well as the courage to decide for themselves what normal really means.
Frazer, head midwife at a hospital in Perth, Australia, is trying to make her corner of the world a little better by starting up a programme for at-risk parents. Not everyone is excited about her ideas. Surrounded by red tape, she finally has to team up with Cora, a social worker who is married to Frazer's boss.
Cora is starting to think her marriage is beyond saving, even if she wants to. Feeling smothered by a domineering spouse, she grabs hold of the programme and the distraction Frazer offers with both hands. Soon the two women get a little too close and find themselves in a situation they never dreamed themselves capable of: an affair.
As the two fall deeper, both are torn between their taboo romance and their morals. But walking away from each other may not be as simple as they thought.

High school senior Lanny Keating has it all. A three-sport athlete at Lauserville High School looking at a college football scholarship, with a supportive family, stellar grades, boy band good looks… until the fateful day when it all falls apart.
Seventeen-year-old Trevor Ladd has always been a publicly declared zero and the high school badboy. Abandoned by his mother and sexually abused by his legal guardian, Trevor sets his sights on mere survival.
Lanny seeks out Trevor's companionship to avoid his shattered home life. Unwilling to share their personal experiences of pain, the boys explore ways to escape, leading them into sexual experimentation, and the abuse of illegal drugs and alcohol. Their mutual suffering creates a lasting bond of friendship and love.
When the time finally comes to get clean and sober, or flunk out of high school, only one of the boys will graduate, while the other spirals downward into addiction.
Will Lanny and Trevor find the strength to battle their demons of mind-altering substances as well as emotional vulnerability?
Clean takes the reader on a gritty trip into the real and raw world of teenage substance abuse.
My review
18-year-old Vincent Hazelwood has spent his entire life being shuffled from one foster home to the next. His grades sucked. Making friends? Out of the question thanks to his nervous breakdowns and unpredictable moods. Still, Vince thought when Maggie Atkins took him in, he might've finally found a place to get his life—and his issues—in order.
But then Maggie keels over from a heart attack. Vince is homeless, alone, and the inheritance money isn't going to last long. A year ago, Vince watched a girl leap to her death off a bridge, and now he's starting to think she had the right idea.
Vince stumbles across a website forum geared toward people considering suicide. There, he meets others with the same debate regarding the pros and cons of death: Casper, battling cancer, would rather off herself than slowly waste away. And there's quiet, withdrawn Adam, who suspects if he died, his mom wouldn't even notice.
As they gravitate toward each other, Vince searches for a reason to live while coping without Maggie's guidance, coming to terms with Casper's imminent death, and falling in love with a boy who doesn't plan on sticking around.
Gustavo Tiberius is not normal. He knows this. Everyone in his small town of Abby, Oregon, knows this. He reads encyclopedias every night before bed. He has a pet ferret called Harry S. Truman. He owns a video rental store that no one goes to. His closest friends are a lady named Lottie with drag queen hair and a trio of elderly Vespa riders known as the We Three Queens.
Gus is not normal. And he's fine with that. All he wants is to be left alone.
Until Casey, an asexual stoner hipster and the newest employee at Lottie's Lattes, enters his life. For some reason, Casey thinks Gus is the greatest thing ever. And maybe Gus is starting to think the same thing about Casey, even if Casey is obsessive about Instagramming his food.
But Gus isn't normal and Casey deserves someone who can be. Suddenly wanting to be that someone, Gus steps out of his comfort zone and plans to become the most normal person ever.
After all, what could possibly go wrong?
Among his eccentric though strictly principled group of friends, Lord Richard Vane is the confidant on whom everyone depends for advice, moral rectitude, and discreet assistance. Yet when Richard has a problem, he turns to his valet, a fixer of unparalleled genius—and the object of Richard's deepest desires. If there is one rule a gentleman must follow, it is never to dally with servants. But when David is close enough to touch, the rules of class collide with the basest sort of animal instinct: overpowering lust.
For David Cyprian, burglary and blackmail are as much in a day's work as bootblacking—anything for the man he's devoted to. But the one thing he wants for himself is the one thing Richard refuses to give: his heart. With the tension between them growing to be unbearable, David's seemingly incorruptible master has left him no choice. Putting his finely honed skills of seduction and manipulation to good use, he will convince Richard to forget all about his well-meaning objections and give in to sweet, sinful temptation.
Everyone knows that Prophet—former Navy SEAL, former CIA spook, full-time pain in the ass—works alone and thinks only about the trouble he can cause. But his boss, Phil Butler of Extreme Escapes, LTD., has just assigned Proph not only a new partner but also a case haunted by ghosts from Proph's past. Suddenly, he's got to confront them both head on.
Tom Boudreaux—failed FBI agent, failed sheriff, full time believer in bad luck—is wondering why the head of a private contracting firm has hunted him down to offer him a job. Still he's determined to succeed this time, despite being partnered with Prophet, EE, LTD's most successful, lethal, and annoying operative, and even though the case is also resurrecting his own painful past.
Together, Prophet and Tom must find a way to take down killers in the dangerous world of underground cage matches, while fighting their own dangerous attraction. And when they find themselves caught in the crossfire, these two loners are forced to trust each other and work together to escape their ghosts . . . or pay the price.
Damen is a warrior hero to his people, and the rightful heir to the throne of Akielos. But when his half brother seizes power, Damen is captured, stripped of his identity, and sent to serve the prince of an enemy nation as a pleasure slave.
Beautiful, manipulative, and deadly, his new master, Prince Laurent, epitomizes the worst of the court at Vere. But in the lethal political web of the Veretian court, nothing is as it seems, and when Damen finds himself caught up in a play for the throne, he must work together with Laurent to survive and save his country.
For Damen, there is just one rule: never, ever reveal his true identity. Because the one man Damen needs is the one man who has more reason to hate him than anyone else…

A series of murders in New York City has stymied the police and FBI alike, and they suspect the culprit is a single killer sending an indecipherable message. But when the two federal agents assigned to the investigation are taken out, the FBI takes a more personal interest in the case.
Special Agent Ty Grady is pulled out of undercover work after his case blows up in his face. He's cocky, abrasive, and indisputably the best at what he does. But when he's paired with Special Agent Zane Garrett, it's hate at first sight. Garrett is the perfect image of an agent: serious, sober, and focused, which makes their partnership a classic cliche: total opposites, good cop-bad cop, the odd couple. They both know immediately that their partnership will pose more of an obstacle than the lack of evidence left by the murderer.
Practically before their special assignment starts, the murderer strikes again this time at them. Now on the run, trying to track down a man who has focused on killing his pursuers, Grady and Garrett will have to figure out how to work together before they become two more notches in the murderer's knife.
---
What would your required reading list look like?