It's the end of the year – well kinda at least. Since I'm on my way to my girlfriend tomorrow where I won't have time to blog (and let's be honest, I don't want to) I'm posting today my best books of 2017.
Just now I was going through my Goodreads and I totally forgot so many great books that I have read this year! I forgot about some reaaaally bad ones as well, but we don't want to talk about those…
This post will move chronically back through the year, so don't wander if it is not alphabetically or by rating sorted.
 A Darker Shade of Magic by V.E. Schwab
Kell is one of the last Antari—magicians with a rare, coveted ability to travel between parallel Londons; Red, Grey, White, and, once upon a time, Black.
Kell was raised in Arnes—Red London—and officially serves the Maresh Empire as an ambassador, traveling between the frequent bloody regime changes in White London and the court of George III in the dullest of Londons, the one without any magic left to see.
Unofficially, Kell is a smuggler, servicing people willing to pay for even the smallest glimpses of a world they'll never see. It's a defiant hobby with dangerous consequences, which Kell is now seeing firsthand.
After an exchange goes awry, Kell escapes to Grey London and runs into Delilah Bard, a cut-purse with lofty aspirations. She first robs him, then saves him from a deadly enemy, and finally forces Kell to spirit her to another world for a proper adventure.
Now perilous magic is afoot, and treachery lurks at every turn. To save all of the worlds, they'll first need to stay alive.
 All the Ways to Here by Emily O'Beirne – Review to come soon!
In this sequel to Future Leaders of Nowhere, Finn and Willa come home from camp to find everything is different. Even as they grow more sure of their feelings for each other, everything around them feels less certain.
When Finn gets involved in a new community project, she's forced to question where her priorities lie at school. Meanwhile, her dad has moved interstate, her mother is miserable, and her home feels like a ghost town.
Willa's discovering how to negotiate the new terrains of romance and school friendships when an accident at home reminds her just how tenuous her family situation is. Suddenly, even with her dad in town, she's shouldering more responsibility than ever.
As they try to navigate these new worlds together, Finn's learning she has to figure out what she wants, and Willa how to ask for what she needs.
 Scorpio hates Virgo by Anyta Sunday – Review to come soon!
This year is all about healing the heart, Scorpio. It's time to leave negative attitudes and stoic facades at the door and let others see the real, more vulnerable you.
Percy Freedman is not grieving. Absolutely not, take that back at once. No, he's entirely sure that selling his dead aunt's home and leaving the neighbors he's known for years is the sane thing to do. Who in their right mind would keep the house that smells like all the hugs he'll never have again?
Nobody, that's who.
Well, except his cul-de-sac neighbors. They all seem to think some paint and new furniture will clean the emotional slate. They all want him to stay.
Even his nemesis, Callaghan Glover.
Especially his nemesis, Callaghan Glover.
Lured into a game of Sherlock Gnomes, Percy finds himself hanging out with his neighbors more than might be considered healthy. Along with juggling new and surprising verbal grenades from Cal, and his burgeoning friendship with Gnomber9, Percy is starting to wonder if selling might have been the grief talking after all . . .
That's right, Scorpio. With a little patience, heartbreak might be a thing of the past . . .
 His Quiet Agent by Ada Maria Soto – Review here
Arthur Drams works for a secret government security agency, but all he really does is spend his days in a cubicle writing reports no one reads. After getting another "lateral promotion" by a supervisor who barely remembers his name, it's suggested that Arthur try to 'make friends' and 'get noticed' in order to move up the ladder. It's like high school all over again: his attempts to be friendly come across as awkward and creepy, and no one wants to sit at the same table with him at lunch. In a last-ditch attempt to be seen as friendly and outgoing, he decides to make friends with The Alien, aka Agent Martin Grove, known for his strange eating habits, unusual reading choices, and the fact that no one has spoken to him in three years.
Starting with a short, surprisingly interesting conversation on sociology books, Arthur slowly begins to chip away at The Alien's walls using home-cooked meals to lure the secretive agent out of his abrasive shell. Except Martin just might be something closer to an actual secret agent than paper-pusher Arthur is, and it might be more than hearts at risk when something more than friendship begins to develop.
 Proxy by Alex London – Review to come
Knox was born into one of the City's wealthiest families. A Patron, he has everything a boy could possibly want—the latest tech, the coolest clothes, and a Proxy to take all his punishments. When Knox breaks a vase, Syd is beaten. When Knox plays a practical joke, Syd is forced to haul rocks. And when Knox crashes a car, killing one of his friends, Syd is branded and sentenced to death.
Syd is a Proxy. His life is not his own.
Then again, neither is Knox's. Knox and Syd have more in common than either would guess. So when Knox and Syd realize that the only way to beat the system is to save each other, they flee. Yet Knox's father is no ordinary Patron, and Syd is no ordinary Proxy. The ensuing cross-country chase will uncover a secret society of rebels, test both boys' resolve, and shine a blinding light onto a world of those who owe and those who pay. Some debts, it turns out, cannot be repaid.
 Rock N Soul by Lauren Sattersby
I'm Tyler Lindsey, and until recently, I had an okay apartment, an okay girlfriend, and an okay job as a bellboy at a respectable Boston hotel. Then rock star Chris Raiden died right before I brought his room service—stiffing me on the tip, by the way—and my life went to hell. My fifteen minutes of fame was more like five seconds, and my girlfriend left me in disgust.
But even worse—Chris is haunting me. Not the room where he died, like a normal ghost. No, somehow he's stuck to me and is insisting on taking care of a bunch of unfinished business in California. So now I have to traipse across the country with the world's most narcissistic ghost.
But . . . I keep having these weird thoughts. Thoughts about how much I like the way he makes me laugh. Thoughts where I kind of want to kiss the emo-narcissist, even though he's a ghost and an asshole and I can't touch him anyway. And even if I could, what will happen when he finishes his business and nothing's keeping him here anymore?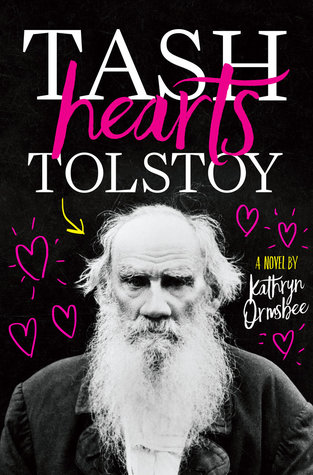 Tash hearts Tolstoy by Kathryn Ormsbee – Review here
After a shout-out from one of the Internet's superstar vloggers, Natasha "Tash" Zelenka finds herself and her obscure, amateur web series, Unhappy Families, thrust into the limelight: She's gone viral.
Her show is a modern adaptation of Anna Karenina—written by Tash's literary love Count Lev Nikolayevich "Leo" Tolstoy. Tash is a fan of the forty thousand new subscribers, their gushing tweets, and flashy Tumblr GIFs. Not so much the pressure to deliver the best web series ever.
And when Unhappy Families is nominated for a Golden Tuba award, Tash's cyber-flirtation with Thom Causer, a fellow award nominee, suddenly has the potential to become something IRL—if she can figure out how to tell said crush that she's romantic asexual.
Tash wants to enjoy her newfound fame, but will she lose her friends in her rise to the top? What would Tolstoy do?
 Under Parr by Andrea Bramhall – Review here
December 5th, 2013 left its mark on the North Norfolk Coast in more ways than one. A tidal surge and storm swept millennia-old cliff faces into the sea and flooded homes and businesses up and down the coast. It also buried a secret in the WWII bunker hiding under the golf course at Brancaster. A secret kept for years, until it falls squarely into the lap of Detective Sergeant Kate Brannon and her fellow officers.
A skeleton, deep inside the bunker.
How did it get there? Who was he…or she? How did the stranger die—in a tragic accident or something more sinister?
Well, that's Kate's job to find out.
 The Magpie Lord by KJ Charles – Review to come
A lord in danger. A magician in turmoil. A snowball in hell.
Exiled to China for twenty years, Lucien Vaudrey never planned to return to England. But with the mysterious deaths of his father and brother, it seems the new Lord Crane has inherited an earldom. He's also inherited his family's enemies. He needs magical assistance, fast. He doesn't expect it to turn up angry.
Magician Stephen Day has good reason to hate Crane's family. Unfortunately, it's his job to deal with supernatural threats. Besides, the earl is unlike any aristocrat he's ever met, with the tattoos, the attitude… and the way Crane seems determined to get him into bed. That's definitely unusual.
Soon Stephen is falling hard for the worst possible man, at the worst possible time. But Crane's dangerous appeal isn't the only thing rendering Stephen powerless. Evil pervades the house, a web of plots is closing round Crane, and if Stephen can't find a way through it—they're both going to die.
 This is not a Love Story by Suki Fleet – Review here
When fifteen-year-old Romeo's mother leaves one day and doesn't return, he finds himself homeless and trying to survive on the streets. Mute and terrified, his silence makes him vulnerable, and one night he is beaten by a gang of other kids, only to be rescued by a boy who pledges to take care of him.
Julian is barely two years older than Romeo. A runaway from an abusive home, he has had to make some difficult choices and sells himself on the street to survive. Taking care of Romeo changes him, gives him a purpose in life, gives him hope, and he tries to be strong and keep his troubles with drugs behind him. But living as they do is slowly destroying him, and he begins to doubt he can be strong enough.
This is the story of their struggle to find a way off the streets and stay together at all costs. But when events threaten to tear them apart, it is Romeo who must find the strength within himself to help Julian (and not let their love story turn into a Shakespearean tragedy).
 Enemies of the State by Tal Bauer – Review to come
A rogue Black Ops unit with the president in their crosshairs.
A Secret Service agent who will break every rule.
A president falling for the one person he shouldn't—a man.
Newly elected President Jack Spiers's presidency is rocked from the very beginning, and he's working furiously to keep the world from falling apart. Between terrorism attacks ripping apart Europe, Russia's constant posturing and aggression, and the quagmire of the Middle East, Jack is struggling to keep his campaign promise—to work toward a better, safer world.
For Special Agent Ethan Reichenbach, Jack is just another president, the third in twelve years. With Jack's election, he's been promoted, and now he's running the presidential detail, which puts him side by side with Jack daily. He's expecting another stuffed suit and an arrogant DC politician, but Jack shocks him with his humor and humanity.
There are rules against a Secret Service agent and one of their protectees developing a friendship—big rules. Besides, Jack is straight as a ruler, and a widower, and Ethan has always avoided falling for straight men. Ethan keeps his distance, but Jack draws him in, like gas to a naked flame, and it's a lure he isn't strong enough to turn away from.
As the two men collide, rules are shattered and the world teeters on the verge of war, and a rogue Black Ops unit bent on destruction sets Jack in their deadly crosshairs. Ethan must put everything on the line in order to save the man he's come to love, Jack's presidency, and the world.
 Trailer Trash by Marie Sexton – Review here
It's 1986, and what should have been the greatest summer of Nate Bradford's life goes sour when his parents suddenly divorce. Now, instead of spending his senior year in his hometown of Austin, Texas, he's living with his father in Warren, Wyoming, population 2,833 (and Nate thinks that might be a generous estimate). There's no swimming pool, no tennis team, no mall—not even any MTV. The entire school's smaller than his graduating class back home, and in a town where the top teen pastimes are sex and drugs, Nate just doesn't fit in.
Then Nate meets Cody Lawrence. Cody's dirt-poor, from a broken family, and definitely lives on the wrong side of the tracks. Nate's dad says Cody's bad news. The other kids say he's trash. But Nate knows Cody's a good kid who's been dealt a lousy hand. In fact, he's beginning to think his feelings for Cody go beyond friendship.
Admitting he might be gay is hard enough, but between small-town prejudices and the growing AIDS epidemic dominating the headlines, a town like Warren, Wyoming, is no place for two young men to fall in love.
---
There are quite a few reviews I have to write in 2018, but I'm excited to write them. Of course there willbe those I've mentioned above, but there are many more as well!
Have you read any of these books? And more importantly: what are your favourite books of 2017?