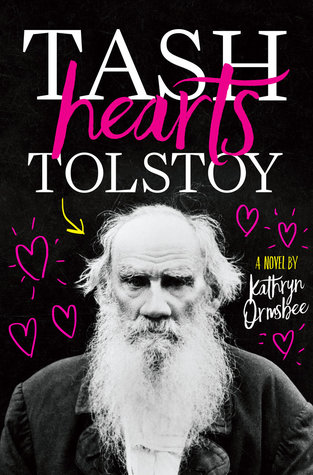 Series: Standalone
Genre: LGBT (asexual heteroromantic character), YA
Rating: 5/5 Stars
Cover: I love the pink hearts in combination with grumpy Tolstoy!
Links: goodreads, Amazon.de*, Amazon.com*
Trigger warnings: Cancer
Description: After a shout-out from one of the Internet's superstar vloggers, Natasha "Tash" Zelenka finds herself and her obscure, amateur web series, Unhappy Families, thrust into the limelight: She's gone viral.
Her show is a modern adaptation of Anna Karenina—written by Tash's literary love Count Lev Nikolayevich "Leo" Tolstoy. Tash is a fan of the forty thousand new subscribers, their gushing tweets, and flashy Tumblr GIFs. Not so much the pressure to deliver the best web series ever.
And when Unhappy Families is nominated for a Golden Tuba award, Tash's cyber-flirtation with Thom Causer, a fellow award nominee, suddenly has the potential to become something IRL—if she can figure out how to tell said crush that she's romantic asexual.
Tash wants to enjoy her newfound fame, but will she lose her friends in her rise to the top? What would Tolstoy do?
Review: A truly splendifying read!
Splendifying is a word that Kathryn used in Tash hearts Tolstoy (maybe even invents? I at least haven't heard it before) and it truly describes this book perfectly. It's such an amazing read, but at times a little bit terrifying. In a good way.
Tash is an asexual heteroromantic and I haven't read about this orientation before. If you know my blog you know I love ace books but before Tash all characters were not heteroromantic. It's so great that this orientation is featured in this book, because there are asexual heteroromantics and they belong in the LGBTQIA+ community (I will fight you on this!).
The way Tash handles her asexuality and especially the way other people handle it is so very true… I had to stop reading at times and simply breathe, because I was moved to tears. Those parts are the terrifying parts btw. And at other times I had to stop reading and simply press this book against my chest. Those are the splendid parts btw.
After asking Kathryn told me she had an asexual heteroromantic beta reader and lots of ace readers to check her manuscript and it really shows. I wish more authors would be like this!
I will reread Tash hearts Tolstoy again and again and again and I'll probably love it more with each reread.
Disclaimer: I received a free copy through the author in exchange for an honest review. Thank you.
*affiliate link: this DOESN'T mean you pay more, I simply receive some money if you decide to buy Tash Hearts Tolstoy.