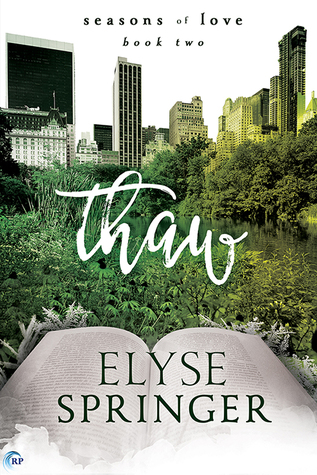 Series: Seasons of Love (book 2), Standalone
Genre: LGBT (f/f, asexual character), Romance
Rating: 4.5/5 Stars
Cover: How many times have I mentioned how much I love this series' covers?
Links: goodreads
Trigger warnings: none
Description: Abigail is content with her quiet life as a librarian. But when she's invited to a high-profile charity auction, she finds herself dancing with one of the most beautiful women she's ever met. Abby's sure she'll never see her again, but then Gabrielle calls and asks her on a date. And soon after, another.
Supermodel Gabrielle Levesque has a reputation as the Ice Queen—cold and untouchable—except she warms up whenever she's with Abby. Only Abby isn't interested in the heat between them; she's asexual, and she's worried that admitting as much to Gabrielle might spell the end of their blooming romance.
They're two different women from two very different worlds, but Abby knows she can love Gabrielle. Her passion for books, travel, and theater prove there's more to the Ice Queen than meets the eye. But they'll have to overcome Abby's fears—and Gabrielle's own threatening secrets—in order to find their way to love.
Review: An ace book by an ace author!
I was so excited for this book and then I finally could read it. I was not disappointed. Of course not.
I simply devoured this book without noticing how time flew by. While the first book was rather dramatic this one's really soothing somehow. One of the reasons is Elyse Springer's writing but another was how easy Abby's asexuality was accepted by her friends, how not a big issue it was.
Well, it is an issue at first for Abby because she doesn't know if a relationship with a not asexual partner can work or if she has to have sex in a relationship – but that are thoughts and doubts every ace person has, I'd say.
As one can expect from an ace book by an ace author there are some… let's call them pointers for non asexual people in it. But they're not patronizing. They're simply offering a different kind of view. Like for example there's this discussion how there is always sex in society and… there truly is always sex in society. It's fucking everywhere!
I could go on a rant regarding this theme, but I want to keep talking about Thaw itself.
I do have to add how great it is that there is no one-true-way-to-be-asexual portrayed in this book. I think it can be a real eye opener for some people – if they're willing to have their eyes opened, that is.
So, it's really a feel good book – exactly what I needed at the time of reading. The only bad thing about it is its shortness. Shortness in general because I could have read about Abby and Gabrielle for ages, but shortness in a specific way as well. Near the end it felt a little bit rushed to me. I honestly was surprised that it's finished.
Disclaimer: I received a free copy through the author in exchange for an honest review. Thank you.