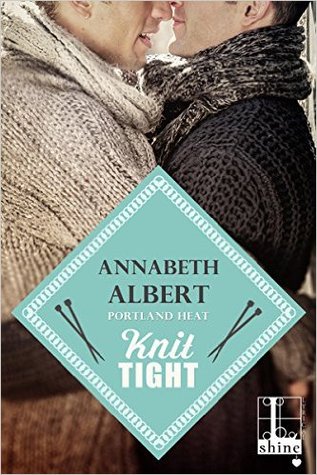 Series: Portland Heat (Book 4), Standalone
Genre: LGBT (m/m), Romance
Rating: 3/5 Stars
Cover: I love the details
Goodreads: add
Trigger warnings: biphobia
Description: It's no secret that Portland, Oregon, has some of best restaurants, shops, and cafés in the country. But it's the hard-working men who serve it all up that keep us coming back for more…

One of Portland's hottest young baristas, Brady is famous for his java-topping flair, turning a regular cup of joe into a work of art. Every Wednesday—aka "Knit Night"—hordes of women and their needles descend on the coffeehouse, and Brady's feeling the heat. Into the fray walks a tall, dark, and distractingly handsome stranger from New York. His name is Evren, and he's the sexy nephew of Brady's sweetest customer, the owner of the yarn shop down the street. He's also got a killer smile, confident air, and masculine charm that's tying Brady's stomach in knots. The smitten barista can't wait to see him at the next week's gathering. But when he tries to ask Evren out, his plans unravel faster than an unfinished edge. If Brady hopes to warm up more than Evren's coffee, he'll have to find a way to untangle their feelings, get out of the friend zone, and form a close-knit bond that's bound to last a lifetime…
Review: I love coffeeshop AUs, but I have never read a published coffee shop story. I love the atmosphere in this settings and I loved it here as well.
Brady was a very interesting character and I liked his interactions with his siblings. Evren… was rather assholish and hard to like. His view of bisexuals was… 'realistic', because lots of dumb people think that way. But that made it hard for me to like their relationship as well. I didn't really get it, to be honest.
So I honestly wasn't invested in this story, even though I did care for most of the characters. It still brought me to tears, which isn't an easy thing to do if a ready is a little bit bored.
So I'm undecided about this story. I liked it and didn't like it at the same time. You should read an excerpt and make up your own mind (which you should do always, but reviews may help if a book is worth it to make up one's mind about it).
Disclaimer: I was provided with a free copy through NetGalley in exchange for an honest review. Thank you.