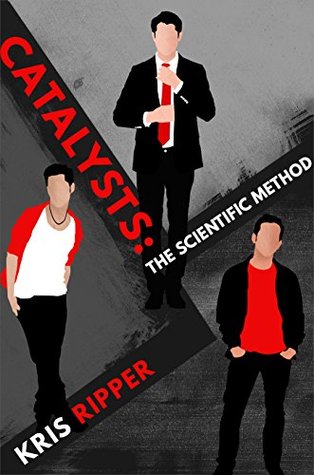 Series: The Scientific Method Universe (book 1)
Genre: LGBT (m/m, m/m/m), Erotica
Rating: 4.5/5 stars
Cover: I really like it.

Buy: Amazon.com* / Amazon.de*
Trigger warnings: rape fanatsy
Description: Sometimes all it takes is meeting one person to turn your world upside down. Will Derrie likes girls but he isn't honest with them; he wants kinky sex and lots of it. When Hugh offers to dominate him, no sex required, Will realizes it might not be so easy to separate the two.
Sometimes all it takes is a new angle on an old idea to change everything you thought you wanted. Hugh Reynolds holds the world at arm's length. He lives alone, works alone, and he thinks he's as happy as he'll ever be. But Will gets under his skin and once he's gone, Hugh realizes he doesn't want to go it alone forever.
Sometimes all it takes is a random encounter to open your mind (and your heart). Truman Jennings hits on a cute guy at a conference and he's smitten by the end of their first date. Hugh's not the kindest or the easiest boyfriend Truman's ever had, but he brings one thing to their relationship that no one else could: kinky, adventurous, sweetly submissive Will.
Sometimes you can't find the right man till you find the wrong one. Three men. Three sides to love, and intimacy, and laughter. Three people who didn't know what they were looking for…until they found it in each other.
Review: Oh wow. Nearly perfect. Haven't read anything like this before. End of review. No, seriously. This book took a hold of me and it still hasn't let go. I don't think it ever will.

The first part is about Hugh and Will. I really felt their relationship developing and I loved it so much. They have chemistry, they have personality and they have banter. But that's not the only reason why I love Catalysts as much as I do.
It isn't often that kink is written without sex. Well, later on there is sex in this novel, but it still focusses heavily on the psychological part of it. Everything's just really, really erotic and you get to experience everything.
The second part introduces Truman, who brings a new dynamic to the relationship. Sadly Hugh and Truman's relationship doesn't get the same great developement (it's like 'bamm, love!'). They still fit very well together, even though Will has doubts where he fits in this relationship now.
And the wonderfully written kinkiness goes on.
I felt really safe reading this novel, which is a strange concept to me. Losing myself in a book? This happens often. But feeling safe doing so? That's the first time to me. I want more of it.